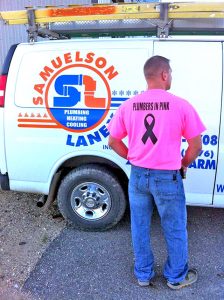 Plumbers in Pink
Samuelson Laney Plumbing, Cooling & Heating, Inc. is a family owned and operated business. We have been serving the Park Rapids and surrounding areas since 2008. We take pride in our work and commitment to the community and we are dedicated to your comfort.
We enjoy assisting our clients in finding energy and water saving solutions for their homes and businesses. Our courteous and knowledgeable staff is here to help make your project a success, no matter how large or small!
In October, we donate $5 of every service call to the Susan G. Komen foundation as part of our Plumbers in Pink campaign.